Emirates exhibits, the ultimate name for Luxury Interior design in Dubai
Now days it's not easy to simply go with what you have given to live in, it may be your home, your workplace or the place of respite. So to simply change your tedious dwelling to a luxurious abode all you must need is an interior designer who will create that mostly dreamt place for you. When it comes to the best interior companies in Dubai, the only name comes, Emirates Exhibits. We have evolved as an expert luxury interior designing company of Dubai with our designs from elegant house to surprising workplace. We create beautiful crafted hands-on interior design service tailored to our client's personal need and constraint. At our studio in Sarjah, UAE our creative interior designers have committed to design and deliver exceptional, comfortable and luxurious interior designs to give enduring pleasure to you. Our expert interior planner will lead your project from planning to creative designs. From drawing to budget and project management, everything will be directed by our experts to give you luxurious custom-made interiors which will exceed our client's mind's eye. We truly believe in giving life enhancing good quality design to each of our clients ensuring to maintain it in every project we undertook.
Being the best interior designer company in Dubai, Emirates Exhibits has expanded its patrons from residences to corporate offices to hospitals to hotels. What set us apart from our competitors is our client centric approach. We constantly aims for integrity and excellence which enables us achieve extremely high client retention and also gaining new clients. Emirates Exhibits has positioned itself as a leader in the interior design market in occupancy services with privilege to work with a variety of clients including multiple companies, firms, corporate interior designs, civil and interior services, imported furniture and startups, across Dubai.  Our Interior design services strive to deliver a perfectly blend of aesthetics, productive and ergonomic dwelling or work places for our clients. Though Dubai is becoming the preferred destination for companies across the world, the need of world class interior design and occupancy services is also higher. So to fulfill this need, we at Emirates exhibits try our best to serve our clients with the experience of world class interior design services with magnificence and creativity.
Emirates Exhibits is organized with a series of highly skilled teams, each team is managed by expert and experienced designers. With all the effective and energetic designers with professional expertise, we are able to provide the best interior design service at Dubai to our clients. Designs are not bound by anything; designs can go beyond anything based on designer's creativity and client's requirement. Our architects and designers are always there to put modernism and classic touches to every design with much more comfort and ease. Design is passion for each designers of Emirates Exhibit. Before starting work, our expert designers will discuss with you about what you want in your dream place to be. Then to give you a realistic approach about your dream place that what it would look after complete, our designers will build a 3D interior concept of your design using advanced technologies. Then we will build and execute your home interior to perfection. From fabulous false ceilings to glamorous halls, stunning Furniture and luxurious sofa and everything you want to be styled, our team of expert craftsmen and architects will transform your dream to reality. Our talented team of project managers and architects ensure that your home or work place interiors are a hassle free and amusing experience. We use all finest materials to be used in our each interior projects to ensure you that we take quality so seriously. So the name Emirates Exhibits stands for perfection and quality.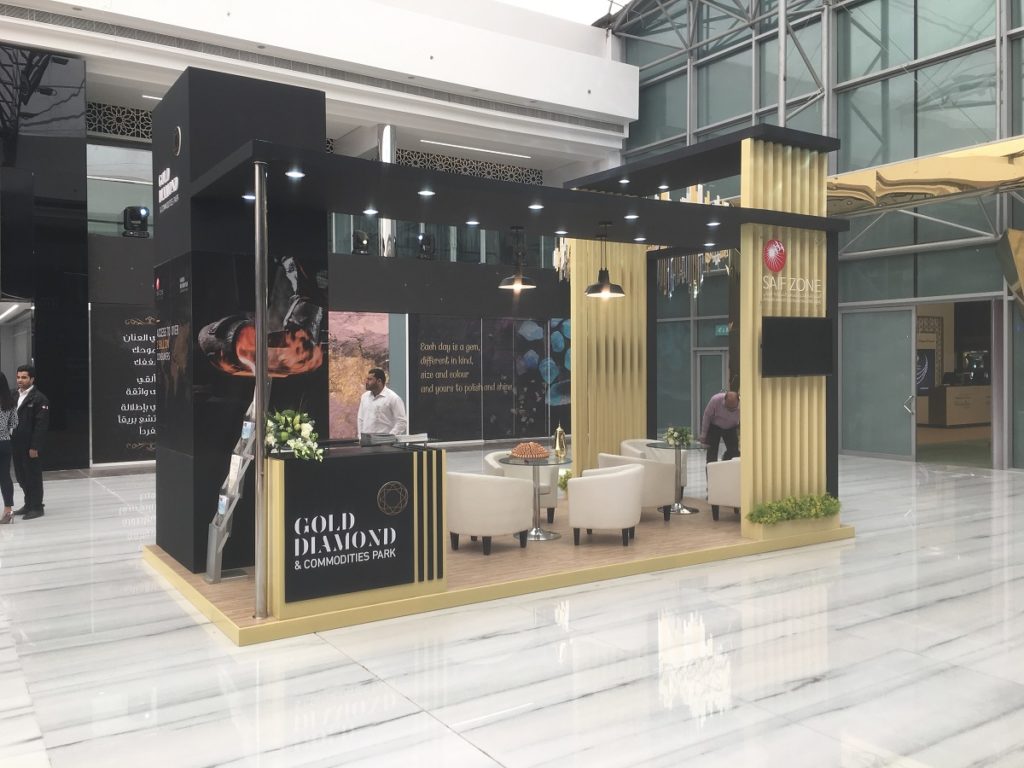 Best Interior Fit Out Companies In Dubai
Emirates exhibits proves its tag to be the interior fit out companies in Dubai by hiring expert interior designers having vast skill set enriched with the influence of various designs and styles acquired over a decade of experience. They create very distinctive design for each and every client based on their unique requirement. The team of technical experts and skilled architects and interior designer Dubai, carry out rigorous attention to detail high standard flow from beginning to design development and final installation. Emirates Exhibits ensembles various projects including interiors for finest and exclusive apartments and villas, premium corporate houses, luxury Hotels, various offices, malls and many more in the luxury and ultra luxury segments. Our interior designers will devise your dream place in the best possible way to match the best in the industry using innovative notion and optimum space planning. Our personalized approach determines that the designs will work the best for you. As the best interior designer in Dubai our optimum goal is to bring your vision into reality within the best budget and time frame.